Few photos from Bologna Mineral Show 2016 :
---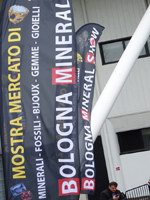 Bologna streets...
Some photos, from Mineral Show
Show

Show

XL Chinese wulfenite

Fluorite from the US

Museum size, aquamarine from Pakistan

Brazilian amethyst

Brazilian watermelon tourmaline

Mexican amethyst

Museum size fluorite from US

Small tanzanites

Large (approx. 5 cm) tanzanite crystal

Rhodochrosite from Peru

Exhibition booth...

Exhibition booth...

Brazilian tourmalines

Native gold from Italy

Museum specimen of gypsum

A large specimen of fluorite with calcite crystals on a surface

Lovely and large pyromorphite from China

Very nice rhodochrosite from the US (size, about 15 cm)

Vivianite specimen from Bolivia

Museum

size

fluorite

from China

Museum size calcite from US

Museum size fluorite from a France

Very unusual Fluorite

Alpine quartz from France

Pink quartz from Brazil (size 12 cm approx. !!)

Somebody's head ....

Ancient crab, the prepared fine ...

Somebody's head ....
мюних минерал шоу, коллекционные минералы, образцы минералов, топаз, берилл, турмалин, самоцветы, минералы урала